These wireless camera systems were originally developed to provide the ultimate in security for banks, and traditionally used by security intensive operations like casinos and airports.
Today closed-circuit television (CCTV) cameras are so inexpensive and simple enough to be used by any one at home, work and other place of interest.
Now that this powerful technology is within the reach of the average consumer, it makes an effective part of any home security system, as well as everyday surveillance.
Closed circuit means the video is connected directly to the recording or viewing source without being broadcast.
For the professionals, it's still the choice of businesses like retail stores and shopping centers to discourage, detect and prevent crimes.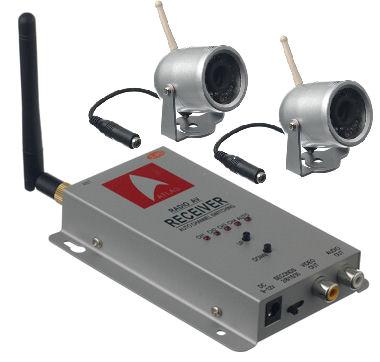 These Wireless Color Hidden Cameras will work with either the supplied AC Adapter or supplied 9V Battery. These cameras are very small and can be placed anywhere! You can watch on your TV, Computer Monitor
Features:
High quality Color CMOS sensor for crisp, clear images

Long operation range: up to 100 m line of sight or 30 m through obstructions (walls/ceilings)

Camera with AC or Battery operated for portability

Pinhole and the Smallest of the Kind

Can be hidden behind wall, pictures, books etc